At Lemon Tree Bed and Breakfast we want to kick off the new year with a fantastic offer for our guests.
A limited number of rooms are available so, if you are interested, please contact us early to secure the offer.
The offer is for stays of 4 nights or 7 nights during January anf February 2020 and includes Breakfast and Car Hire!
Yes! Free Car Hire for all your stay
(terms and conditions apply, of course)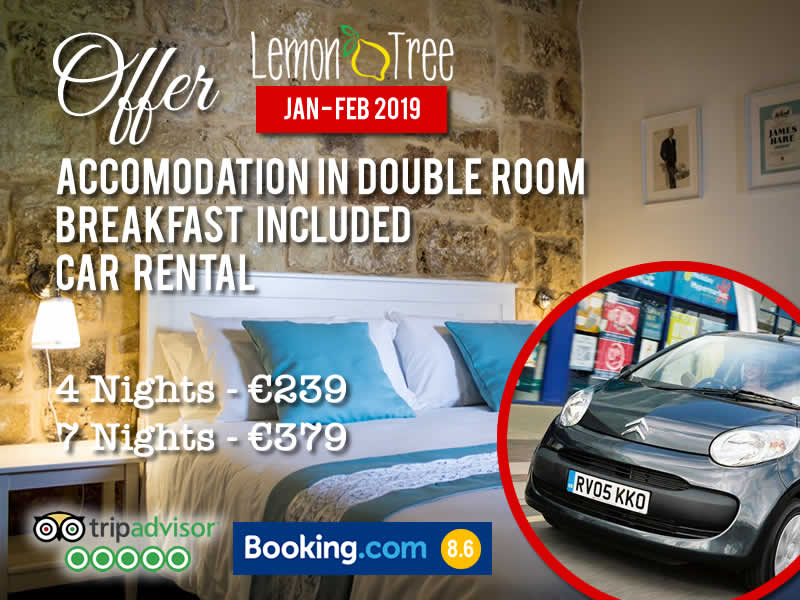 What to do in Malta in January and February?
Visit the Hypogeum and other Temples
With the off-season you get to miss all those annoying queues and get right to the interesting part.
Experience the Fishermen's Village
Take a stroll down to Marsaxlokk on a windy day and see the fishermen in the port, making good use of the downtime to repair their nets and maintain their boats.
Valletta Baroque Festival (10th to 25th January 2020)
Valletta International Baroque Festival offers you the opportunity to listen to world-class baroque music artists in a historical atmosphere typically filled with a local and international audience. One of the main stages of the festival is Teatru Manoel, the oldest working theatre in the world, St. John's Co-Cathedral, and the Valletta Archaeological Museum are just a few of the fascinating venues you can visit.
Carnival (21st to 25th February 2020)
The centre of festivities is Valletta, but there are similar parties in smaller towns. All over the island, you will find people in colourful costumes looking forward to the great parade. The party continues well into the night in Paceville! Don't miss this colourful side of Malta!
Feast of Saint Paul's Shipwreck (10th February)
The Feast of Saint Paul's Shipwreck is a holiday unique to Malta because it was on Malta that the Apostle Paul was shipwrecked around the year A.D. 60. Celebrated in Valletta.
Explore Dingli Cliffs
As the countryside gets greener, and the air freshens up (10-16 Degrees Celcius), the Cliffs at Dingli offer a great hike with amazing views of the Mediterranean Sea
Savour Local Cuisine
With Winter the island's local produce reaches its peak. Look for local dishes and savour the best vegetables our farmers produce.
Tour the Gardens around Valletta
Without the scortching Summer Sun, take the opportunity to visit the Bastions protecting the City of Valletta and the gardens encoved within. Start from Hastings Garden looking over Marsamxett Harbour and proceed all the way to Upper Barrakka Gardens.
Get Lost in Mdina
The small Medieval city of Mdina offers narrow, winding streets between the historic buildings. Be prepared to enjoy some really quiet time.
Eat Pastizzi under the Rain
This traditional cheese-filled savoury pastry is an all-year-rounder, but locals really appreciate it must on a chilly, wet day.